Graveyard Shift
Netflix's 'Tiger King' Is The Greatest Story About Petty Feuds, Hitmen, And Wild Animals Ever Told

Updated 四月 3, 2020
24.6k views
17 items
The Netflix docu-series Tiger King kind of has it all. Its subtitle is "Murder, Mayhem and Madness," but it also features polygamy, cults, and drug running, as well as feuds that would put the Hatfields and McCoys to shame, and a cast of eccentric characters straight out of an Elmore Leonard novel. It centers on the eponymous "Tiger King," Joseph Maldonado-Passage, better known as "Joe Exotic," a mulleted, openly gay country singer and stage magician who owned the Greater Wynnewood Exotic Animal Park until (spoilers) he went to prison for his part in a murder-for-hire plot. Which means, if nothing else, any remaining "Joe Exotic for President" merchandise is a collector's item.
If that sounds like a lot to take in, it still only scratches the surface. Across seven episodes, Tiger King dives deep into the life of Joe Exotic and a rogues' gallery of oddball figures from the world of private big cat ownership. There's the guy who may have been the basis for Scarface, and the guy who supposedly has a cultlike harem of "wives," and the crusader who's trying to end private ownership of big cats using millions she inherited from her husband... who mysteriously disappeared. If this whole thing ended in a bloodier denouement, it would be an Elmore Leonard novel. To put it mildly, the Tiger King facts are stranger than fiction.
The docu-series was produced by conservationist, entrepreneur, and filmmaker Eric Goode - who claims he stumbled upon Exotic while investigating "a notorious reptile dealer" in South Florida - and documentarian Rebecca Chaiklin. Goode founded the Turtle Conservancy as well as a variety of nightclubs and hotels in New York; he also made music videos for the likes of Nine Inch Nails, Lords of Acid, and Terrorvision. Together, he and Chaiklin decided to film a documentary about Joe Exotic, only to get a story way more bizarre than they could ever have bargained for.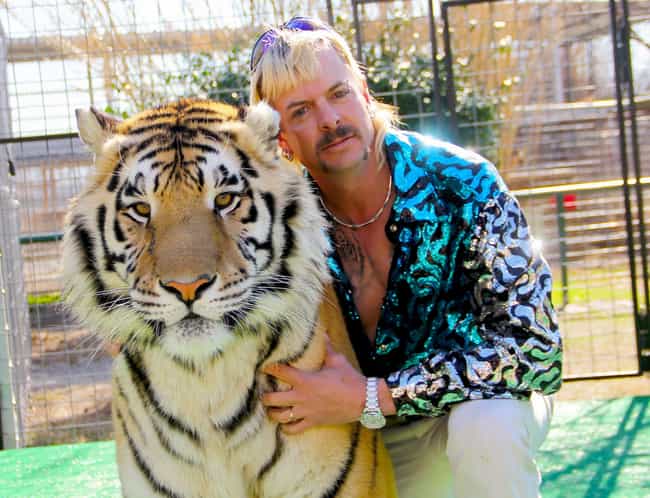 Joe Exotic Was A Flamboyant Zookeeper, Cowboy, Entertainer, And Presidential Candidate
At the center of the drama is the so-called "Tiger King" himself, a larger-than-life zoo owner who goes by the name Joe Exotic. Born Joseph Schreibvogel, Joe grew up around animals and got started in the business after his brother Garold was slain in a collision with a drunk driver. He incorporated stage magic and animals from his roadside zoo into traveling anti-drug shows that went to schools and malls around the country.
As Michael Kaplan wrote in the New York Post, "Joe Exotic was as wild as his animals and, for a time, just as beloved." A flamboyant figure, the openly gay, gun-toting cowboy with a parade of "husbands" was a self-styled country singer (though he didn't actually write or perform the songs; that was an "outfit called the Clinton Johnson Band," according to author Robert Moor) who attempted a run for both governor of Oklahoma and president of the United States. Unfortunately for Joe, he was also involved in a long-running feud with Carole Baskin, a widowed millionaire who runs Big Cat Rescue in Florida and has made it her personal mission to "ban the private possession" of big cats, with Joe Exotic as one of her targets.
Joe believed Baskin offed her millionaire husband and fed him to the tigers, and he took to calling her out and even threatening her life on social media. At one point in the documentary, he puts a pistol to the head of a blow-up doll with Baskin's name on it, then pulls the trigger. According to prosecutors, he went on to actually hire a hitman to follow through with his threats.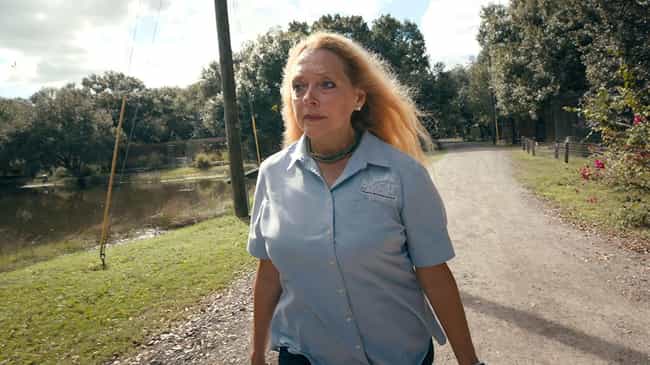 Joe Was Embroiled In A Feud With Carole Baskin
The owner of Big Cat Rescue in Florida, Carole Baskin is called "the Mother Teresa of big cats" by one of her volunteers. In her own words, she says, "I live, eat, and breathe ending the captivity of big cats." Describing herself as someone who never had friends, she sees big cats as her friends and sets herself against private zoo owners like Joe Exotic who, according to Baskin, exploit these "magnificent creatures" for profit.
While the documentary makes the bad blood between the two seem pretty equal, with other players in the drama claiming Joe and Carole were "obsessed" with each other, she recalled it a different way to Vanity Fair:
I think for Joe, [the feud] was probably very personal, because people said there wasn't a day in his life that he wasn't ranting and raving, and carrying on and calling out my name. But for me, he was just one of about a dozen of these bad guys that I was exposing online.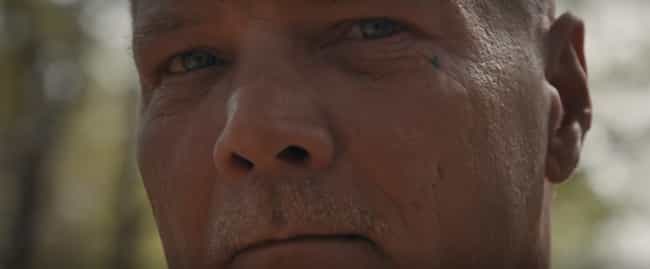 Joe Allegedly Hired A Hitman To Knock Off Carole
When Jeff Lowe took over Joe Exotic's Greater Wynnewood Exotic Animal Park, he brought along a new employee. A New York magazine profile describes Allen Glover as "a hulk of a man with a shaved head, a sailor's deeply reddened face, and a voice as low and grumbly as a motorcycle engine." The teardrop tattoo under his left eye made him all the more conspicuous. If this were a Hollywood movie, he would be played by Michael Rooker.
Glover became instrumental in the murder-for-hire plot that ultimately found Joe locked up. As the story goes, according to prosecutors, Joe offered to pay Glover $5,000 up front to take Carole Baskin out permanently. They discussed various ways to do it - among them involved hiding beside the bike path Baskin rode along on her way to work and firing a crossbow at her or slicing her head off with a knife. "I'm gonna have that [expletive]'s head in a jar," Joe said in one of his internet videos.
"Apparently, I chickened out," Glover says in the documentary. There is reason to believe he never actually made it to Florida and instead took Joe's money and spent it getting wasted in South Carolina. Glover testified that Joe paid him only $3,000 of the promised $5,000, but that was enough for federal agents to find Joe where he was hiding out in Gulf Breeze, FL - a seven-hour drive from Baskin's Big Cat Rescue operation in Tampa.
What Joe didn't know when talking to Glover - and, later, with an undercover agent who went by the name "Mark" - was that Lowe, fellow tiger owner James Garretson, and Glover himself had all turned the state's evidence against him. "Just like follow her into a mall parking lot and just cap her and drive off," Joe said to Mark in a recording played for the jury.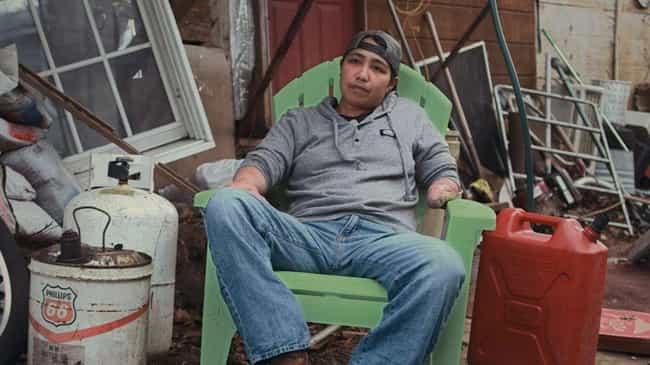 Joe Exotic Was 'The King Of Misfits'
"Big cat people are back-stabbing pieces of sh*t," Garretson, who turned the state's evidence against Joe , memorably says in the first episode of Tiger King.
Joe tended to hire ex-convicts - people to whom, in his eyes, he was giving a "second chance" and a good home at the zoo.
"The people who worked with Joe were misfits," one interviewee says, describing the employees of the Greater Wynnewood Exotic Animal Park. "And Joe was the King of Misfits."
Like the lions, tigers, and other wild animals Joe took in, they weren't exactly tame, but he tended to inspire their loyalty.
When Kelci "Saff" Saffery, one of the employees at the park, had his arm shredded by a tiger, he went back to work within a few days, telling the doctor to amputate rather than undergo lengthy surgeries so that it wouldn't harm the park's image.